Multipure Officially Authorized Independent Distributor #424611


MULTIPURE AQUAPERFORM
The Best Carbon Block Water FIlter Money Can Buy!
THE MULTIPURE AQUAPERFORM WATER FILTER:
AVAILABLE AS AN UNDER SINK KIT, COUNTER TOP KIT OR INLINE ICEMAKER ETC KIT
The Multipure Aquaperform water filter system is one of the most technologically advanced water filters available, providing the BEST in performance - reduces all of the 80+ contaminants that the other Aquaversa and Aquadome do, PLUS ARSENIC V!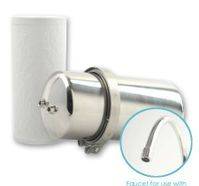 This is the ONLY NSF CERTIFIED CARBON FILTER IN THE WORLD THAT REDUCES ARSENIC V!
Stainless Steel housing with round bottom.
DON'T FORGET TO ENTER THE MULTIPURE PROMO CODE FOR YOUR FREE GIFT
IN THE SHOPPING CART OR WHEN YOU CALL!
Please choose the Faucet. You will be prompted for your choice during checkout.


GUARANTEED* BEST PRICE = CLICK TO STORE TO SEE LOWEST PRICE



BUY YOUR AQUAPERFORM:

We use a solid carbon block filter that is considered to be the most effective method for reducing a wide range of contaminants of health concern, which may be present in the water. The carbon is compacted into a dense structure, causing every molecule of water to be forced through microscopic pores of carbon, effectively reducing pollutants. The Solid Carbon Block Filter is a replaceable cartridge designed so that it can be easily changed. Some additional advantages of the Solid Carbon Block Filter are that it does not waste water, there is no electricity required, it does not remove essential trace minerals that are beneficial to good health, it does not add salt or silver to the water; and it provides fresh, delicious, healthy drinking water.
If you have any questions, please contact me here.
It is my hope that everyone will get off the plastic bottle habit and Go Green by using a Multipure water filter system!