Multipure Independent Distributor #424611


COMPARE WATER FILTERS WITH FACTS AND CHARTS
Please Use My
Water Filter Comparison

Chart Below
To Choose The Best Water Filter For Your Individual Needs

It can be difficult to compare water filters because most of the manufacturers do not clearly have the information on their web site, and few are brave and honest enough to compare theirs to Multipure's. Many are not even certified by the NSF like Multipure's are. (See our page about NSF Certification to understand why this is so important when buying a water filter.)

The first thing to learn as you compare water filters is to beware of companies who make claims which are not backed up by NSF Certification. Anyone can make a claim about anything and many water filter sellers make claims that are not backed up by the NSF.

There are hundreds of companies and to compare the water filters made by all the companies would take a very big web site! However there are really only a handful of well respected and popular filters so that makes our job easier!

For this reason I am going to concentrate on comparing water filters only among 3 of the best known and most popular manufacturers: Multipure, Aquasana and Brita. Seeing them compared side by side in the following comparison chart will help you determine which is the best water filter for yourself:
WATER FILTER COMPARISON CHART
Brand

Brita

Model Number

Aquadome

AQ-4000, 4035


FF-100

Retail Price

$259.95 MSRP

$114.27 MSRP

$29.99 MSRP

Cost Per Gallon

(Filter Replacement Cost)

$69.95 /year

(replace filter only once a year) (every 750 gal.)
Most Convenient


$119.98/year (replace filter twice a year at $59.99 / 6 mo.)
$57 / only 300 Gal.(they say to replace filter approximately every 4 mo. at $18.99 each) Note: this is only for 300 gallons a year as opposed to Multipure at 750 gallons a year. 300 gallons per year may not be enough for your needs.

Per Gallon "Cost Of Use"

8.9 cents Per Gal.
BEST PRICE PER GALLON

13 cents a gallon
19 cents Per Gal.
NSF CERTIFIED
YES
YES
YES
California Certified
YES
YES
YES
Flow Rate (A higher number means a faster water flow)

.75 gal/ per min.
.50 gal/ per min. (50% slower than Multipure!)

.58 gal/ per min (40% slower than Multipure)


Reduces Asbestos

YES >99.9%

YES but only >99.0%

YES >99.0%

Reduces Radon

YES >94.9%

NO

NO

Reduces Mercury

YES > 99%

YES but only 95.8%-96.5%

NO

Reduces MTBE

YES > 96.6%

YES > only 86.6%

NO

Reduces Toxaphene

YES > 92.9%

NO

YES > 93.6%

Reduces PCBs

YES > 99.9%

NO

NO

Reduces Chlordane

YES >99.5%

NO

YES but only 98.9%

Reduces Turbidity

YES > 99%

YES > 99%

YES > 99%

Reduces Chlorine

YES >99%

YES but only 97.4%

YES but only 97.4%

Reduces Lead

YES >99.3%

YES but only 99.3%

YES but only 99.3%

Reduces THMs

YES > 99.8%

YES but only 95%

YES but only 98.7%

Reduces VOCs

YES > 95-99%*

YES 95-99%

YES 95-99%

Reduces Lindane

YES > 99%

YES > 99%

99%

Reduces Alachlor

YES > 98%

YES > 98%

Yes but only 97.5%

Reduces Atrazine

YES > 97%

YES > 97%

Yes but only 95%

Reduces Benzene

YES > 99%

YES > 99%

YES but only >96.6%

Reduces TCE

YES > 99%

YES > 99%

YES but only >96.9%
How Many Contaminants Does It Reduce?
80
Reduces the Most Contaminants

only 66
only 56
WARRANTY
***LIFETIME***
BEST WARRANTY

Only One Year
Limited 1 Year
SATSIFACTION GUARANTEE
90 Days
90 Days
Only 30 Days
NOTE: This table belongs to whatsthebestwaterfilter.com and anyone else who uses it has stolen it from me an will be prosecuted.
There is a new NSF Standard 401 for which some companies have been certified for by the NSF.
Here is how Multipure compares to Aquasana under Standard 401:

MULTIPURE
AQUADOME,AQUAVERSA,

AQUASANA
4000, 4035

Bisphenol A (BPA)

YES

YES

Estrone

YES

YES

Ibuprofen

YES

YES

Naproxen

YES

YES

Nonylphenol

YES

YES

Phenytoin

YES

YES

Atenolol

YES

NO

DEET

YES

NO

Carbamazepine

YES

NO

Linuron

YES

NO

Meprobamate

YES

NO

Metolachlor

YES

NO

TCEP

YES

NO

TCPP

YES

NO

Trimethoprim

YES

NO

This table was created by Whatsthebestwaterfilter.com and no one else may use it. Anyone else using it will be prosecuted.
In case you aren't paying attention that is 15 contaminants reduced by the Aquadome and only 6 by the Aquasana.
*NOTE re the above chart: All Aquasana figures based on "Performance Data Sheet" from their own Company web site; all Brita figures are based on their own data sheet; and all Multipure figures are based on the Multipure data sheet.
This information was checked and compiled on 06-02-15. If you find ANY wrong information please contact me with proof and I will correct it immediately.

These water filter comparison charts clearly show that Multipure is the best water filter!
(Note also that Consumer Reports February 2012 magazine also names the MP750 or "Aquaversa" as it is now known, a BEST BUY!*)

SHOP NOW FOR A MULTIPURE WATER FILTER!


WE GUARANTEE WE ARE OFFERING YOU THE LOWEST PRICE
AND ALL FREE OFFERS ALLOWED BY MULTIPURE!

When you shop at WhatsTheBestWaterFilter
you can rest assured you are getting the best deal possible!
WE GUARANTEE IT!


Compare Water Filters Based on California Certification:
To further compare Multipure to Aquasana based on the State of California certifications:

Here's Aquasana's State of California Dept. of Health Services Certificate for their counter-top water filter: (The contaminants that are filtered are highlighted in yellow.)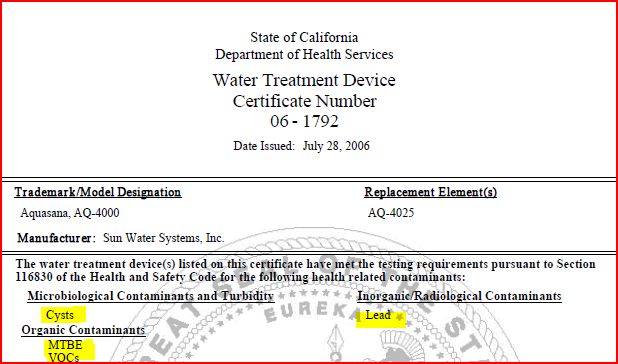 As you can see, this Aquasana counter-top model is certified by the State of CA (but NOT NSF) to filter:
Cysts, Lead, MTBE, and VOC's (Volatile Organic Compounds is a whole group of contaminants, and is the same for both units under CA's certification system, so we have not included the list here, for either filter. You can find it in the full .pdf document, linked at the bottom of this page).
Now here is Multipure's State of California Dept. of Health Services Certificate for their MPCT, and 750 Models (now called the Aquaversa - but the exact same filters), and others (the certificate is the same for the MPAD or Aquadome):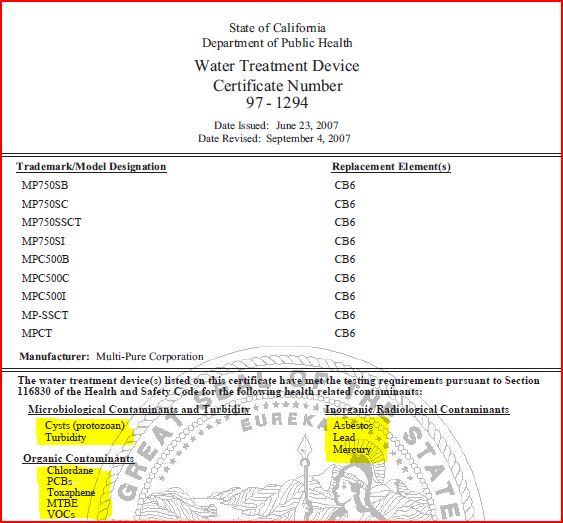 As you can see, when we compare these 2 water filter systems, Multipure's water filters reduce more contaminants than the Aquasana. To be exact, the Multipure systems are California-Certified (AND NSF-Certified) to reduce the following six contaminants which the Aquasana does not:

(The following information about these contaminants is taken from the U.S. Environmental Protection Agency's web page.)

Turbidity - "Higher turbidity levels are often associated with higher levels of disease-causing microorganisms such as viruses, parasites and some bacteria. These organisms can cause symptoms such as nausea, cramps, diarrhea, and associated headaches."
Asbestos - "Increased risk of developing benign intestinal polyps"
Mercury - "Kidney damage"
Chlordane - "Liver or nervous system problems; increased risk of cancer"
PCB's - "Skin changes; thymus gland problems; immune deficiencies; reproductive or nervous system difficulties; increased risk of cancer"
Toxaphene - "Kidney, liver, or thyroid problems; increased risk of cancer"
Multipure's carbon systems filter all six of the above contaminants in addition to ALL the ones that Aquasana filters.
So when we carefully compare water filters sold my MP and Aquasana here are our conclusions based on the facts:
(I am using the abbreviation "MP" for Multipure)
1) MP's filters are certified by the NSF and Aquasana's are not.
2) MP's filters cost less to operate. While the original cost of the Multi-pure is a little higher, over several years it averages out to be lower than the cost of an Aquasana filter, since the Aquasana carbon filter has to be changed twice per year vs. the Multipure's filter only having to be changed about once per year.*
4) MP's filters are also certified by the state of California
5) MP gives you a 90 day Money Back Satisfaction Guarantee - that means you can return it for any reason within 90 days if you are not satisfied , for a full refund of the purchase price. This is compared to Aquasana's 60 day guarantee.
6) MP gives you a LIFETIME WARRANTY on the housing so you will never have to buy a new housing if you maintain it as instructed (change the filter and clean the housing once per year).
Don't settle for less! Doesn't your family deserve the very best?
NOTE: THE COUPON DISCOUNT PROGRAM AND THE FILTER MANIA PROGRAM FROM MULTIPURE HAVE ENDED
AND ALL MULTIPURE FILTERS
MUST NOW BE SOLD ONLY AT RETAIL PRICE - EVERYWHERE!
While you may find discount codes on the web, still,
Multipure will no longer honor them as those pages should have been taken down.


WHATSTHEBESTWATERFILTER.COM HAS BROUGHT YOU THIS COMPARE WATER FILTERS PAGE SO YOU CAN CHOOSE INTELLIGENTLY BASED ON DATA AND FACTS AND DETERMINE FOR YOURSELF WHAT IS THE BEST WATER FILTER.




*This calculation is based on paying average prices on Multipure's cheapest counter-top system, and $59.99 every six months for an Aquasana replacement filter vs. paying $69.95 every 12 months for a Multi-pure replacement filter. At the end of 2 years you will have substantially less money invested into the Multipure than the Aquasana. From that point forward the Multipure will cost about $69/year to operate whereas the Aquasana will cost about $96-120/year to operate. Brita will cost more. This is why when we compare water filters we have to take the cost of replacement cartridges into account!

Note also that the Multipure reduces 3 important contaminants that the Aquasana does not, and that the Aquasana is not as well reviewed nor been in business as long as Multipure, Multipure gives a LIFETIME warranty whereas Aquasana does not!
IN SUMMARY THE MOST IMPORTANT FACTORS TO COMPARE WATER FILTERS ARE THE FOLLOWING:
COMPARE THE NSF CERTIFICATION AND SEE HOW MANY AND WHAT PERCENTAGE OF CONTAMINANTS ARE CERTIFIED TO BE REDUCED (Frankly I would never buy any filter that is not NSF Certified, as otherwise, you have no guarantee at all the manufacturer or seller is telling the truth.) MULTIPURE IS NSF CERTIFIED TO REDUCE THE MOST CONTAMINANTS OF ANY OTHER NSF CERTIFIED FILTER!

COMPARE THE WARRANTY - MULTIPURE HAS A LIFETIME WARRANY ON THE HOUSING SO YOU WILL NEVER NEED TO BUY ANOTHER!

COMPARE THE GURANTEE - 30 DAYS? 60 DAYS? NONE? MULTIPURE HAS A 90 DAY NO QUESTIONS ASKED MONEY BACK GUARANTEE.

COMPARE THE REPUTATION AND LONGETIVITY OF THE COMPANY - MULTIPURE HAS BEEN MAKING FILTERS SINCE 1970 (ALMOST 50 YEARS!) AND IS A LEADER IN WATER FILTER TECHNOLOGY!

You may have seen another popular "compare water filters" or "water filter comparisons" page. You may wonder why Multipure is not on that page! It's no mystery! If you were a company with certifications less good than Multipure would you include us on your comparison chart?

I will include ANY filter here if you can provide NSF certified stats that prove what your filter reduces and what percentages! We at whatsthebestwaterfilter.com are not afraid to stack up our Multipure filters against any other filter!

To compare water filters, then, is not that hard when you are armed with the facts and figures I have given you above.