How To Choose The Best Water Filter

Multipure Independent Distributor #424611
Learning About Water Filter Systems:

1) What substances do you want to filter out of your water?

Some of the most important and most prevalent contaminants are arsenic, mercury, asbestos, PCB's and chlordane. For example, some cities have tap water that has more than 1,000 times the amount of arsenic considered optimal by the EPA! Read more about arsenic below! Recently hexavalent chromium is a big problem and is in the news.

2) How do you find out which filter does what?

Figuring this out can seem a little intimidating but it's really not too hard, it just takes time to research it. I have done that research and will show you the facts and issues I ran across in my searches.
I am going to tell you exactly which filter I decided to buy and why, so if you want to know my answer, right now, feel free to skip ahead to the bottom of the page and find out. (This is not a Mystery novel!)

But if you have a minute, please read the following explanation as to why and how I made my choice, so you will understand that what I am sharing with you here is based on extensive research and sound reasoning.

1) What do you want to filter out of your water? And how do you know what to filter out?

One way to deal with this question is to just take the "shotgun" approach and buy a filter that filters most all of the potentially cancer or disease causing chemicals, and leave it at that. If this is the approach you want to take (and there's nothing wrong with that!), then please skip down to #2, below. If, however, you want to find out more about which bad stuff is in your water, read on.
There are two ways you can find out what specific contaminants you want to filter out:

A) If you live in a city you can use the following link from the EPA to find the WATER QUALITY REPORT for your city. Start there and pay attention to the amounts of contaminants that are given as PUBLIC HEALTH GOALS, not the amount that they are saying meets the EPA goals. The EPA goals are based on what cities can AFFORD - in other words it is based on affordability of reducing contaminants, NOT on whether or not these amounts of contaminants are safe for health or not. See my page on ARSENIC in order to gain a better understanding of what to look for in terms of various contaminants that the government says are at levels in our drinking water that are "safe enough" (yet not really safe, IMHO!).

FIND YOUR OWN WATER QUALITY REPORT THROUGH THE EPA's WEB PAGE


B) If you live in the country and get your water from a well, it is highly advised that you pay someone to run a test so you know what exactly is in your water. You can find a testing company by clicking here. Once you know which bad things are in your water, you can then choose the appropriate filter system.


Now, if you live in a city, when you look at your water company's Water Quality Report, it will inevitably say that your water quality is "within the legal requirements" and so it is completely safe to drink. While it is no doubt within the legal requirements, sometimes those guidelines are far from ideal and if you read your Water Quality Report carefully you will see that they admit it falls short of the state or federal goals.

What your water company does not tell you is that often the law allows a level of contaminants that many scientists and doctors consider unhealthy even though the government says it is safe.

"Safe" is a relative term. Potentially dangerous contaminants such as arsenic, trihalomethanes, asbestos, lead, mercury, chlordane, toxaphene, and PCB's and many others are still in many cities' water - the water that is said to be safe - the water from your kitchen faucet. But many health experts agree that you should filter tap water using a water filter in order to virtually eliminate these unhealthy chemicals. The government almost always says these levels are safe, until people start getting sick or dying, then finally, they may admit there was a problem, often after some activist like Erin Brokovich fights to force them to recognize the problem. The White House Cancer Panel also recently recommended that everyone use a water filter!



Don't be surprised if someone at the water company or at the EPA or etc. tells you that you don't really need to filter your water for health. Of course it is your choice, but since you are here I assume you agree with me, that it is best to be safe, not sorry, and filter your tap water. Note that bottled water is often no safer and sometimes worse than tap water.
While the water at the water plant may have contaminants under the legal limit, the water may pick up more contaminants as it works its way through miles of pipes on its way to your drinking glass!
2) How do you find out which filter does what so you can get the best water filter for your needs?

The NSF or National Sanitation Foundation is a non-profit pro-consumer group that does the job of examining water filtration systems and determining what they truly filter out and making sure the manufacturer is not misrepresenting its claims. This is important to us as consumers because otherwise any company can say their filter "removes all contaminants".
But only the NSF independently checks the company's products periodically and examines the company's manufacturing facilities to make sure they are up to standards deserving of NSF Certification.



NSF International is widely recognized as representing the highest standards of excellence. They are even recommended by the United States Environmental Protection Agency, which says: ""If you use a filter to remove lead, be sure you get one that is certified to remove lead by NSF International."
For much more information on the see our MENU at the left and choose Why Is NSF Certification Important?
Water filter reviews and charts that show the specific differences between Multipure, Aquasana and Brita, for example, can be seen here at the page linked above so you can choose your best water filter.
Now, the bottom line:
So What Is The Best Water Filter, And Why?
Quite simply, the best water filter systems - the filters that reduce the widest range of contaminants, as certified by the NSF - are made by Multipure.
Multipure water filter systems use a carbon block filter, which is generally accepted by experts as being the best type of filter for home use. Multipure water filters are NSF Certified and also certified by the States of California, Wisconsin, Iowa and Massachussetts. And it is certified by NSF to reduce the widest range of contaminants, of any filter on the market.

Note that "Certified to NSF Standards" is not the same as "NSF Certified". "NSF Certified" is what it should say any other terminilogy such as "Certified to NSF Standards" is just designed to make you think it is NSF Certified when it is not. This is like when you go to the store and the bread says in big letters on the front, "whole wheat" but it is NOT actually 100% whole wheat bread unless it says in the ingredients "100% whole wheat".




If you have any doubt about any company's water filter, ask to see their certification from NSF or look for it at the NSF site linked above. Here is Multipure's NSF Certificate.


Authorized Multipure Independent Distributor #424611
(MAKE SURE YOU BUY FROM AN AUTHORIZED Multipure INDEPENDENT DISTRIBUTOR LIKE ME! I also give you the biggest discount MP allows!)

Multipure has been in business for over 40 years and are the world's largest manufacturer of compressed solid carbon block filters and are leaders in the development of carbon block filters. Multipure water filter systems are backed by a 90 day Money Back Guarantee and and their filter housing is Warrantied FOR LIFE! The fact that we stand behind our systems in this way, and that the NSF Certifies that we filter more contaminants than any other filter system means that we make the best water filter. Period.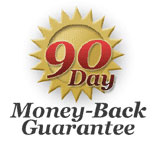 Multipure filters are used throughout the world by hospitals, major universities and schools; laboratories; restaurants; the U.S. military; foreign embassies; major airlines; and over two million consumers.
There are 4 more very important reasons to use a Multipure water filter:

1) Multipure water tastes good! This will encourage you and your family to drink more water, which in turn will add to you and your family's health. You'll probably notice how much better your coffee tastes with MultiPure filtered water, too!
2) Most Multipure filter systems will give you clean fresh tap water for only 8 cents a gallon!* Few cost less than this and certainly none that are Certified to filter as many contaminants as Multipure does. Since it is so inexpensive, now you can do all your cooking with clean healthy water! We even water our plants with it! *This price is with the free auto-ship program where you get a new filter shipped to you once per year so you don't forget and you get 15% off too which brings it down from 11 cents a gallon to 8 cents per gallon! The Multipure arsenic filters cost about 18 cents a gallon if you use the Autoship option, but they are the ONLY filters NSF-Certified to reduce Arsenic V!
3) Multipure will get you "off the bottle"! You can help our planet and future generations by Going Green with Multipure!


Plastic bottles are a major problem for our planet and the plastic in landfills leads to a vicious cycle where more and more toxins are released through the plastic into the soil and water. This is yet another reason to use a Multipure filter!
4) With a Multipure water filter system you will not have to worry about BPA (Bisphenol A), phthalates, or any other chemicals and hormone disruptors leaching from plastic water bottles into your body, potentially contributing to cancer or other diseases. You can fill and carry water in a re-usable stainless steel bottle (also sold by Multipure) to take to work and recreational activities! And filling stainless steel bottles from your filtered tap at home is much cheaper than buying water in plastic bottles at the store!
CLICK THE LINK HERE TO LEARN MORE ABOUT WHY BOTTLED OR VENDED WATER IS NOT A GOOD CHOICE!

FILL YOUR BOTTLE FROM YOUR Multipure FILTERED TAP TO HELP SAVE MONEY AND SAVE THE ENVIRONMENT FROM PLASTIC!

I hope I have been able to illuminate and clarify many of the issues surrounding buying the best water filter for your particular needs. Please look at my other pages as listed on the MENU at the top left of this page for further or more detailed information. But if you are already convinced that Multipure is the best water filter system, as I am, then you can click the link below to get a substantial discount on the system you choose!
CLICK HERE
TO SHOP FOR A Multipure FILTER NOW!

(OR CALL 1-800-622-9208 TO ORDER)
BUT DON'T FORGET TO GIVE THIS DISTRIBUTOR #
TO ENSURE YOU ARE GETTING ANY OFFERS THAT MAY NOT BE LISTED HERE.
"Which is the best water filter?" is a question I am often asked.
It really depends on your own situation. Any of the Multipure Systems are fine. They are ALL NSF CERTIFIED and all are backed up by our 90 Day Money Back Guarantee and Lifetime Warranty! It depends on your needs and wants.
If you live in an apartment and want something that does not involve any real plumbing and you can install yourself in 15 minutes, I recommend either of these two water filter systems:
The Aquadome:




This is our lowest priced system but with the same warranty and money back guarantee as the others, and NSF Certified to reduce over 60 contaminants - the same as all our Multipure models except for the 880 series which also filters Arsenic V. $259.95
For more information click here.
Or the other countertop (or under the counter) system: The Aquaperform :

____

COUNTER TOP AQUAPERFORM OR UNDER THE COUNTER AQUAPERFORM
The Aquaperform is only needed if you have high levels of arsenic in your water. (See below)

For more information and to ensure the lowest price, Guaranteed on any Multipure system, click on the big blue link above and Enter my Official Authorized Independent Distributor portal, then choose PRODUCTS > DRINKING WATER SYSTEMS > AQUAPERFORM
(formerly called the Multi-pure 880 system)
This filter retails for $524.95
If you want an under the counter system and you don't need it to filter Arsenic then you will want the Aquaversa which, by the way, was just awarded Consumer Reports highest rating! (However the less expensive Aquadome uses the exact same NSF Certified carbon block filter and the only difference is that the Aquadome has a SAFE plastic housing instead of stainless steel. Some people just prefer stainless steel, but the Aquadome is perfectly safe and also has a lifetime warranty on its housing!
See our SHOPPING PAGE to enter the Multipure site and shop for the exact model you want. Just don't forget to use our COUPON CODE!

WHAT IF YOUR TAP WATER HAS TOO MUCH ARSENIC?
HOW DO YOU KNOW IF IT DOES OR NOT?
Please CLICK HERE to learn about arsenic and how to filter it!
If you have determined that your water has too much Fluoride, Trivalent Or Hexavalent Chromium, Nitrates or Radium, then REVERSE OSMOSIS is the only filtration system that will reduce these contaminants, and it also filters Arsenic and virtually every other contaminant from your water. Multipure has the best Reverse Osmosis system on the market as it can be configured to waste less water than others.
WHAT ABOUT FLUORIDE? DOES IT REALLY NEED TO BE FILTERED?
Please click here to learn more about Fluoride in drinking water.
Aqua RO (formerly known as the Multi-pure MP750PlusRO):


TO SHOP FOR YOUR MULTIPURE AQUA RO REVERSE OSMOSIS FILTER SYSTEM CLICK HERE.

See the NSF Certification data for all contaminants filtered by the AQUAPERFORM (formerly the MP750PlusRO) unit.

This Reverse Osmosis System plus carbon block filter retails for $579.95

We also offer models with electronic water use gauges, in-line units that are used for coffee makers, and ice makers, whole house filters and so on.

Multipure Drinking Water Systems are tested and certified by NSF International to reduce the widest range of contaminants of health concern. That is why they are the best water filter systems you can buy!

If you have any questions, please contact me here. It is my hope that everyone will get off the plastic bottle habit and Go Green by using the best water filter on the market, bar none!
CLICK HERE TO SHOP NOW FOR A MULTIPURE WATER FILTER!

Thanks! And good health to you!
I know you will be happy that you bought a Multipure water filter system!
I've yet to meet anyone who bought one who did not agree it was the best water filter they ever owned!