Authorized Multipure Independent Distributor #424611


ABOUT FLUORIDE:
IS FLUORIDE IN WATER DANGEROUS?
Whether or not flouride should be added to drinking water is a controversial subject.
I have studied it at length and the evidence does seem to weigh in favor of removing it from our drinking water. On the other hand I don't think it is going to kill you to have some in your water. So ultimately it is your choice.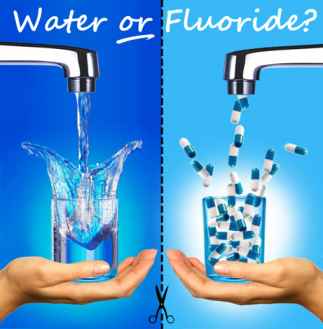 Fluoride is added to water in an attempt to prevent tooth decay. But it is not necessary to DRINK it in order to prevent tooth decay. This is well known by scientists so it leads me to question: Why, then, is it put into our drinking water?
There are hundreds of pages about fluoride on the internet but this will serve as a typical example of the information that is available on fluoride. I have taken the following from FLUORIDEALERT.org
Is FLUORIDE in water necessary for healthy teeth?

NO. Most recent, large-scale studies have found that fluoridated water provides only a minor benefit to teeth, or no demonstrable benefit at all. According to a recent Canadian government review: "The magnitude of fluoridation's effect is not large in absolute terms, is often not statistically significant and may not be of clinical significance."
Moreover, according to the National Academy of Sciences, fluoride is not an essential nutrient. This means that no human disease - including tooth decay - will result from a "deficiency" of fluoride. Thus, unlike real nutrients like calcium and magnesium, the human body does not need fluoride for any physiological process.
Furthermore, just try to find a toothpaste without fluoride in it! If you are brushing your teeth daily, you are almost certainly getting more than enough flouride right on your teeth, where - if anywhere - it belongs!

What makes fluoride different from other chemicals added to water?

In contrast to other chemicals added to water, fluoride does not treat the water, or make the water safer to drink. Fluoride is the only chemical added to water for the sole purpose of medication (to prevent tooth decay -- a non-waterborne disease).

Does fluoride need to be swallowed in order to prevent tooth decay?

NO. Most dental researchers now concede that fluoride's main benefit comes from direct contact with the outside of teeth (a "topical" effect), and not from ingestion (a "systemic" effect). There is no need to swallow fluoride to prevent tooth decay.

Doesn't everyone fluoridate their water?

NO. While most water supplies in the United States are artificially fluoridated, most water supplies in other western countries are not. In western Europe, most countries have rejected water fluoridation, including: Austria, Belgium, Denmark, Finland, France, Germany, Italy, Luxembourg, Netherlands, Norway, Scotland, Sweden, and Switzerland.

Less than 10 countries in the world fluoridate more than 50% of their water supplies, while almost half of the world's population drinking fluoridated water reside in North America (Canada & US).

Where does the fluoride added to water come from?

The main fluoride chemical added to water (hydrofluorosilicic acid) is an industrial by-product from the phosphate fertilizer industry. Unlike the fluoride used in toothpaste, hydrofluorosilicic acid is not pharmaceutical-grade quality. It is an unpurified, industrial-grade, corrosive acid which has been linked, in several recent studies, to increased levels of lead in children's blood.

Does fluoride occur naturally in water?

Like arsenic and lead, very small amounts of fluoride can be found in most water supplies. However, the level of fluoride that naturally-occurs in water is usually much lower than the level artificially added in water fluoridation programs.
What are potential risks from consuming fluoridated water?

Recent studies in the peer-reviewed medical literature indicate that fluoridated water can have detrimental side effects. Health risks associated with low-to-moderate doses of fluoride include: dental fluorosis; bone fracture; bone cancer; joint pain; skin rash, reduced thyroid activity; and IQ deficits.
Is fluoridated water safe for babies?

NO. According to the American Dental Association (ADA), children under 1 year of age should not receive infant formula made with fluoridated water. Babies exposed to fluoridated water are at high risk of developing dental fluorosis - a tooth defect caused by fluoride-induced cell damage within the teeth. Other harm is also likely. According, for example, to the US National Research Council, "it is apparent that fluorides can interfere with the functions of the brain." The danger that fluoride poses to the brain is likely greatest during fetal and infant development, as during this time the barrier which protects the child's brain from environmental toxins is not yet fully formed. Thus, chemicals that find their way into a baby's bloodstream can penetrate into the brain.

According to the Greater Boston Physicians for Social Responsibility: "fluoride exposure, at levels that are experienced by a significant proportion of the population whose drinking water is fluoridated, may have adverse impacts on the developing brain. Though no final conclusions may be reached from available data, the findings are provocative and of significant public health concern."
Is fluoridated water safe for people with kidney disease?

NO. Recent research has found that fluoridated water can contribute to the development of painful bone disorders in people with advanced kidney disease.
How do I filter fluoride from my tap water?
WATER FILTERS: One way to avoid fluoride from the tap is to purchase a Reverse Osmosis water filter system. Brita and Aquasana filters will NOT remove fluoride. No carbon block filters alone will remove fluoride. Multipure offers an excellent Reverse Osmosis system that is also NSF-Certified as are all Multipure filters, so you know you are getting the real deal!
AVOID "TRINITY SPRINGS" WATER: One brand of spring water to avoid, if you are looking to cut down on your fluoride exposure, is "Trinity Springs." Trinity Springs is based in Idaho, USA and has very high levels of naturally-occurring fluoride (about 4 ppm) in its water. See our page on many reasons why you shouldn't drink bottled water at all.
What else can I do to minimize fluoride exposure for myself and my family?
1) If you're using a fluoridated toothpaste, consider switching to a non-fluoridated alternative (which you can find at most health food stores). Young children, who don't have well developed swallowing-reflexes, often swallow a lot of toothpaste when brushing, which can cause disfiguring dental fluorosis and contribute greatly to total systemic intake. Also, even when the toothpaste is not swallowed, the fluoride may cross the gum membrane and enter the bloodstream.
2) If your child is using infant formula, it is imperative to avoid making the formula with fluoridated tap water. Infant formula reconstituted with fluoridated water delivers a very high dose of fluoride to a young baby. For instance, infant formula produced with fluoridated water contains 100 to 200 times more fluoride (1,000 ppb) than is found naturally in breast milk (5-10 ppb). In fact, while breast-fed infants receive the LOWEST body burden (mg/kg/day) in the population, they receive the HIGHEST body burden if they receive fluoridated formula.
3) Minimize consumption of processed beverages (e.g. soda and reconstituted juice). Soda and juice made from concentrate are often manufactured with fluoridated tap water, and hence, have fluoride levels similar to fluoridated water.
4) If you regularly drink non-organic wine or grape juice consider buying only organic varieties. Many commercially-grown grapes in the US are sprayed with a fluoride pesticide called Cryolite. The residues of this pesticide can result in high levels of fluoride in wine or grape juice. In the case of wine, if you don't want to spend the extra money buying organic, consider purchasing a European brand instead of a Californian brand, as Europe uses much less cryolite on its vineyards.
5) Be careful of drinking too much green or black tea. Tea almost always has elevated levels of fluoride and can contribute a substantial amount to one's total fluoride intake.
6) Minimize consumption of mechanically-deboned chicken. Mechanically deboned chicken (e.g. "Chicken McNuggets") has been found to contain elevated levels of fluoride due to the incorporation of ground bone particles (which are high in fluoride) into the meat.
7) If you live in a country which allows fluoridated salt to be sold, make sure that the salt you buy is unfluoridated. Consumption of fluoridated salt can greatly increase a person's fluoride exposure.
8) Check to see if any prescription medicines you are taking contain fluorine. If so, ask your doctor if there are any appropriate alternatives - as some fluorine-containing pharmaceuticals (e.g. Cipro) can metabolize into fluoride ion within the body, thereby increasing the body's exposure to fluoride.
9) If you are going to have surgery, ask your doctors if they can use a non-fluorinated anesthetic. Fluorinated anesthetics such as Enflurane, Isoflurane and Sevoflurane will produce high peak levels of fluoride in blood for up to 24 hours.
10) Avoid the use of teflon-coated pans. Teflon-coated pans may increase the fluoride content of food.
You say that fluoride works topically. Does this mean that you promote the use of fluoridated toothpaste?
While the use of fluoridated toothpaste has certain benefits over water and salt fluoridation (e.g. the individual is given a choice; the fluoride does not contaminate the food supply; and the fluoride is applied to the teeth in a more targeted manner); it also presents a number of risks as well. For example:
Children usually swallow a lot of toothpaste when brushing their teeth, and therefore, if they are using a fluoridated toothpaste they may ingest a lot of fluoride. (For some children, fluoride toothpaste represents the largest daily source of ingested fluoride.) As noted in a recent review:

"Virtually all authors have noted that some children could ingest more fluoride from dentrifice alone than is recommended as a total daily fluoride ingestion" (Levy 1999).
Swallowing toothpaste at a young age is one of the major risk factors for the development of dental fluorosis - a disfiguring condition that can have damaging effects on a child's appearance and self-esteem."
--------------------------------------------------------------------------------------

WHAT IS THE BEST FLUORIDE FILTER?

REVERSE OSMOSIS is the best way to filter fluoride out of your water* and it also reduces arsenic, trivalent and hexavalent chromium, radon and other contaminants.

*No RO filter can remove all fluoride from your water

MP750PlusRO Multipure's Reverse Osmosis unit. Combines RO technology with Multipure's solid carbon block filtration. Reduces a wide range of contaminants including Arsenic V, Cysts, Lead, PCBs, MTBE, Mercury, Asbestos, Chloramine, VOCs and many more.
FIND OUT MORE ABOUT THE Multipure 750PlusRO!


GET A FREE GIFT BY ORDERING NOW!
SEE OUR SHOPPING PAGE FOR DETAILS
Multipure Drinking Water Systems are tested and certified by NSF International to reduce the widest range of contaminants of health concern
If you have any questions, please contact me here.
It is my hope that everyone will get off the plastic bottle habit and Go Green by using a filter that is certified by NSF to reduce the widest range of contaminants, for your health and for the health of Mother Earth!
Thanks! And good health to you!